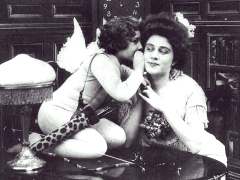 Cupid

So I was just asked for some advice on impressing a woman for Valentine's Day. Everybody is different in their Valentine desires, but if you're reading this website, I'm assuming going out to a nice restaurant for dinner is high up on your list. This year, I don't have V-day plans (yet?), so I will live vicariously through all of you, and recommend some romantic places that I've been. The first restaurant that pops into my head is
Amarcord
, a little Italian restaurant in Yaletown. It's quiet, and comfy, with brick walls, and impeccable service. They have this wonderful lobster pasta dish that is unbelievably tasty, and a beautiful antipasti platter for two. And can you believe this - a restaurant in Yaletown that isn't snobby and that doesn't feel like it's overpriced!? I've been there three or four times. For romance, it's dimly lit, and has a wonderful relaxed, quiet feel to it. The staff there somehow know how to make your evening feel special, no matter when you are there. I'm a big fan of gnocchi, and I remember theirs being pillowy and dreamy. They made me wish I was three inches tall, and could just jump into a plate full of these pillows...but then I would get sauce all over me...I'll have to work on the imagery a little more...
For dessert and coffee, I love
Sweet Revenge
on Main St. at King Edward. Cute little place, easy to walk right past, decorated like an old Victorian parlour. They make their own desserts, that are incredible. Last time I went, I had their warm chocolate pudding cake which they served with a warm fudge sauce, and whipped cream. I find desserts very romantic, but maybe that's just me. It does get busy, but I still think of it as being cosy and romantic, probably due to the rich red walls, and antiquey details like china teacups. They also have nice rooibos teas.
For the ultimate Valentine's dinner or lunch, (or breakfast...wink, wink, nudge, nudge), cook your sweetie something decadent, and (yes, this is going to sound CORNY), make sure to add lots of love. I can taste the love when someone cooks for me. Or make a beautiful picnic to be enjoyed somewhere (though this might be better saved for a romantic summer day). Super easy decadent do-it-yourself dinner at home (feasible even for the culinarily challenged): An appetizer with seared scallops, a mixed green salad with pretty little bits in it, like chunks of strawberry or mango and almond slivers, a big bowl of mussels or clams that have been steamed in white wine, butter, pepper, garlic, fresh crusty bread (go ahead, make the butter patties heart-shaped using a little cookie cutter - I won't tell anyone), and a chocolate fondue for dessert with fruit, mini marshmallows, and cake to dip. Decadence means having more than one dessert, so add maybe a few high end chocolates (say, from
Sen5es
), and tiny scoops of a wonderful refreshing sorbet, served in beautiful glasses (
Mondo's Gelato
, for example). Something a little more substantial than mussels or clams - find a nice recipe for roast pork tenderloin, and serve them as medallions. Elegant, yet very simple, and difficult to screw up.